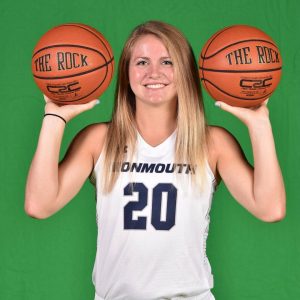 McKinzee graduated from Clay High in 2015. She was a starter on the basketball team all four years and amassed 1300+ points, 600+ rebounds, 500+ assists, and 500+ steals. She led the Panthers to four Little Kanawha Conference South championships. She was 1st team AA state tournament and 2nd team AA all state as a freshman. She was a 1st team AA all state her sophomore, junior, and senior years. She was the Clay High female athlete senior of the year and the Little Kanawha Conference player of the year her senior year. McKinzee went on to have a stellar career for the Monmouth University Hawks in West Long Branch, New Jersey. She was a starter all four years and was MAAC All-Academic Team her last three years. As a sophomore she led the team with a .923 free throw percentage and as a junior she led the team with a .906 free throw percentage and with a .381 three pointer percentage. She led the team all four years in the very important assist-to-turnover radio. McKinzee is now enrolled in the College of Veterinary Medicine at Colorado State University located in Fort Collins, Colorado.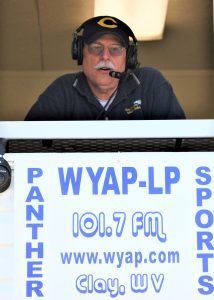 TG was a student-athlete at Nicholas County High graduating in 1964. He attended Hagerstown Junior College, Salem College, and has a Master's Degree in Counseling from Marshall University. He was the teaching principal at Dille Elementary School from 1970 until 1998, and was the guidance counselor at Clay County Middle School from 1998 until he retired in 2007. TG provides live football, basketball, baseball, and softball sportscasts for Clay County High on radio stations WYAP-LP and WTUB-LP. He provides student-athlete names and numbers and information such as the field of study, interests, and family information. His compassion for the student-athletes is clear and gives a positive reflection of Clay County High School. TG travels at his own expense to most home games and many away games to provide the broadcasts, donating his time driving and behind the microphone. In many locations, cell service is needed to connect to the radio station and TG uses his personal cell plan to make this possible. He is the Associate Superintendent and Adult Sunday School teacher at Big Union Baptist Church at Dille, Chairman of the Birch River PSD, and publishes two featured monthly articles in the Clay Free Press.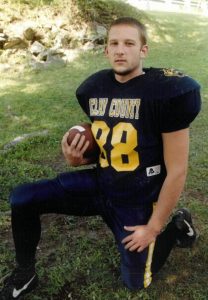 JR graduated from Clay County High School in 2000. On the football field his performance for the Panthers was impressive. He was a three-year starter and the team captain his senior year. He was named as the captain of the Little Kanawha all-conference team his senior year and in addition was selected to the all-state teams as a defensive end. JR was selected to play in the 2000 North-South Football Classic at Charleston and was named the most outstanding player on the south team. He was a winner of the Thorn McAnn award. JR was also outstanding on the basketball court for Clay County High and was selected as a member of the Little Kanawha all-conference team his senior year. JR attended Fairmont State University graduating there in 2004. He also demonstrated his prowess on the gridiron at Fairmont, where he was a three-year starter for their Fighting Falcons. JR is now employed as a Senior Network Engineer for Advanced Technical Solutions, a computer software and services company located in Scott Depot, West Virginia.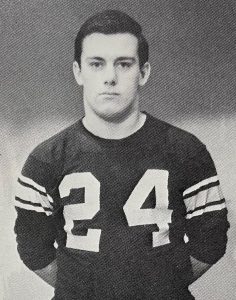 David graduated from Clay County High School in 1967 and played on the Panther's football team all four years. After his senior season he was named to the New River Valley Conference honorable mention team, the All-Southern special honorable mention team, and the All-State honorable mention team. He was also a member of the basketball and baseball teams his junior and senior years. After graduating from Clay County High School, he attended West Virginia Tech where he was a member of their 1967 football team. He left Tech for a two-year stint in the Army, returning in 1971 and rejoining the football team. David later studied at Marshall University and graduated from Morris Harvey College. He began his career as an educator at Hamlin Elementary, also teaching at Brown Elementary, Clay County Junior High, and Clay County Middle School where he also coached the football and basketball teams. David was the Clay High School assistant football and basketball coach for several years, and head basketball coach for one year. He was the assistant coach for several years, and head basketball coach for one year. He was the assistant coach on the 1997 basketball team that played in the state tournament. David has also coached little league boys and girl's teams and he currently assists TG Griffith with the broadcasts of Clay County High School games on WYAP radio.